By Africa Geographic
African countries could increase tourism earnings from protected areas by between four and 11 times in the coming decade. This is according to a working paper published this week by Space for Giantsand Conservation Capital.
According to the working paper, bringing private sector capital to under-funded protected areas will allow these areas to capitalise on surging interest in nature-based non-consumptive tourism. The resultant increase in revenue and driving of sustainable local and national development would occur without draining state finances.
The working paper goes on to explain that 80% of tourists to sub-Saharan Africa visit to view wildlife, and the number of those visitors is set to double to 134 million by 2030, generating $260 billion. Tourism already drives 8.5% of Africa's GDP and provides 24 million jobs. In addition:
• Africa's 8,400 protected areas annually earn $48 billion from 69 million visits
• Every $1 spent by a nature-based tourist in Africa is worth $1.79 to local economies
• Tourism generates 40% more jobs than the same investment in agriculture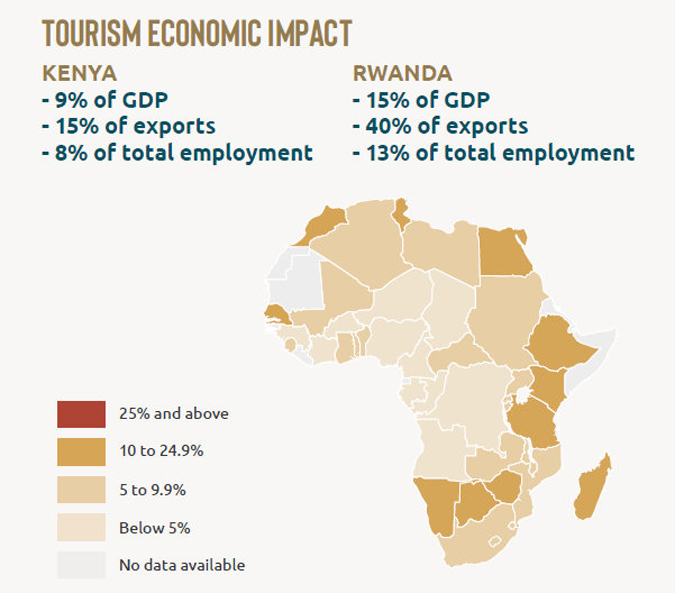 Tourism contribution to GDP in Africa © Space for Giants
And yet these unique natural assets that give Africa its global competitive advantage, are under acute threat and urgently need to prove their economic as well as ecological value. Some protected areas receive only 10% of what they need for survival, as governments allocate more resources to competing priorities such as health, education, and infrastructure development.
The working paper details several country case studies of tourism success stories, and describes seven simple steps for protected area authorities to attract this new international investment.
Dr Lauren Evans, Space for Giants' Director of Conservation Science, said: "Africa's unique diversity of wildlife and habitat has the potential to radically transform the continent's economy. At present, few State Protected Areas are meeting their potential as engines for growth. This presents a major opportunity for governments. Cared for and sustainably developed, these are national assets that can provide significant financial and social returns now and long into the future."
Download the full report here.
According to Space for Giants, tourism – especially tourism to natural landscapes to view wildlife – is a huge untapped economic opportunity for Africa © Space for Giants