By Daniel Allen – Post Magazine
Lions, elephants and other wildlife are thriving in Liwonde National Park, seven years after international managers were hired to engage with local villagers
Safari tourism, key to making the park self-sustaining, is up and poaching and illegal fishing are down, but the battle to safeguard wildlife is constant
From the air, Liwonde National Park appears as an undulating expanse of mopane woodland. The gentle humps of the Chinguni and Kadangusi hills dominate the foreground, giving way to the open, lush Chikalogwe Plain, where herds of water buffalo, sable antelope and impala graze beneath elegant Borassus palms.
The Shire (pronounced "shi-ray") river – fringed by countless tributaries, lagoons and oxbow lakes – meanders through the landscape, a fiery ribbon in the late afternoon sun. It's easy to see why Liwonde is rated by many as Malawi's premier safari destination.
The South African pilot banks his helicopter, causing a minor stampede of hippopotamus. As the ungainly beasts run for the safety of the river, attendant oxpeckers fly off in search of a new herbivorous host.
"I want you to see something," says Mike Reid, in his distinctive Afrikaans accent. "It really drives home the pressures the park is under, and also the achievements we've made."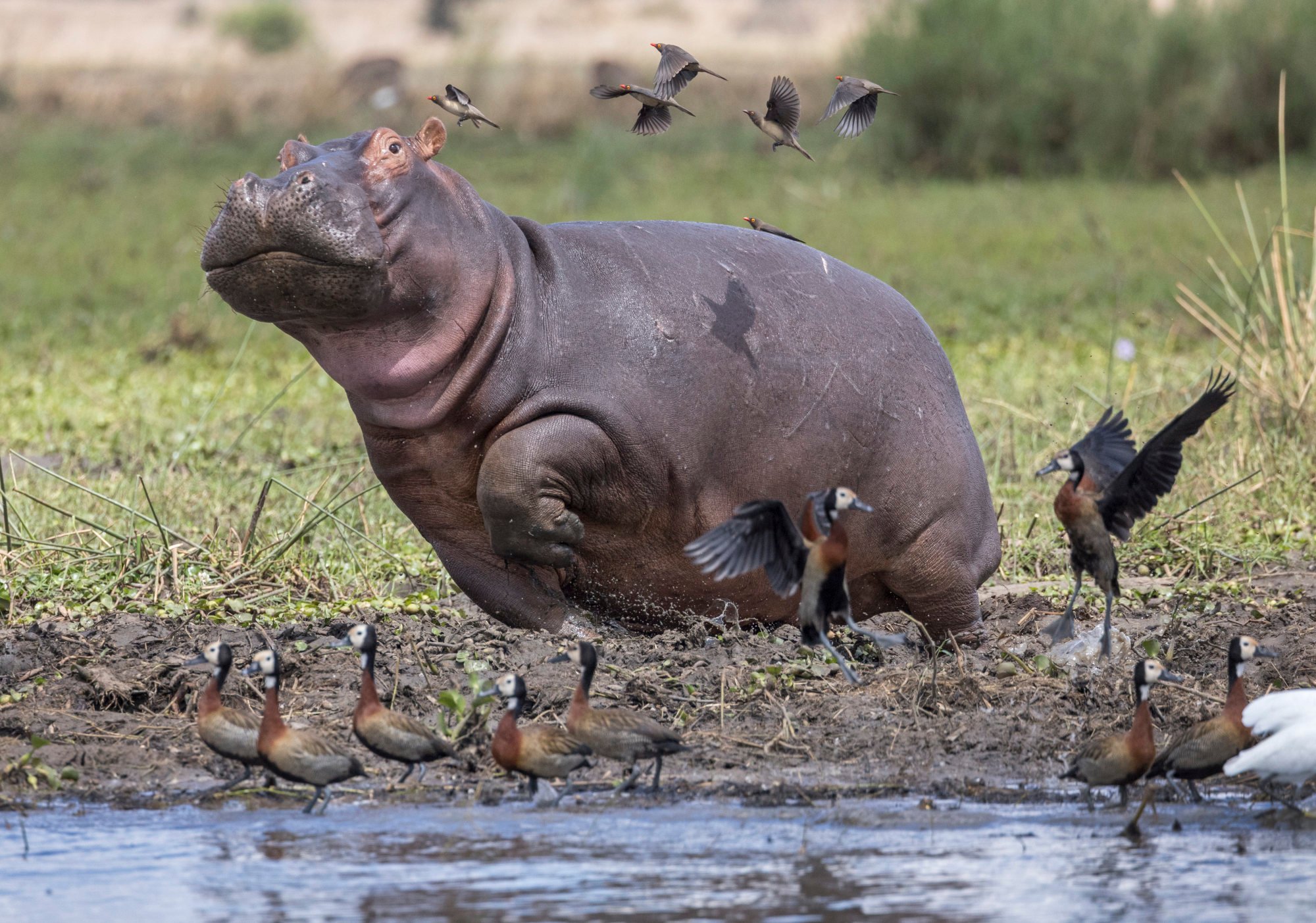 A hippo in Liwonde National Park. Photo: Daniel Allen
The aircraft is soon hovering above the park's fence line, close to one of the main access gates. The contrast between the two sides is stark: the interior is thickly forested, but the exterior is almost completely devoid of trees, with plots of dry grass interspersed with patches of newly burned ground, some of it still smouldering.
Clusters of single-storey, mud-brick buildings in various states of construction dot the landscape, which stretches towards a shimmering, similarly treeless horizon. Liwonde is a wildlife island in a sea of humanity.
"There are nearly 800,000 people living in communities around Liwonde, and most of them are subsistence-level smallholders," says Reid. "The health of the park is influenced hugely by the success, or otherwise, of efforts to engage them and bring them on board with conservation efforts.
"Seven years ago, the level of human-wildlife conflict here was unprecedented. Things had to change, and they have."
One of southern Africa's smallest countries, Malawi is a sliver of land dominated by the Great Rift Valley and hemmed in by Mozambique, Zambia and Tanzania. Located in southern Malawi, the 580 sq km (224 square mile) Liwonde National Park is a sliver within a sliver.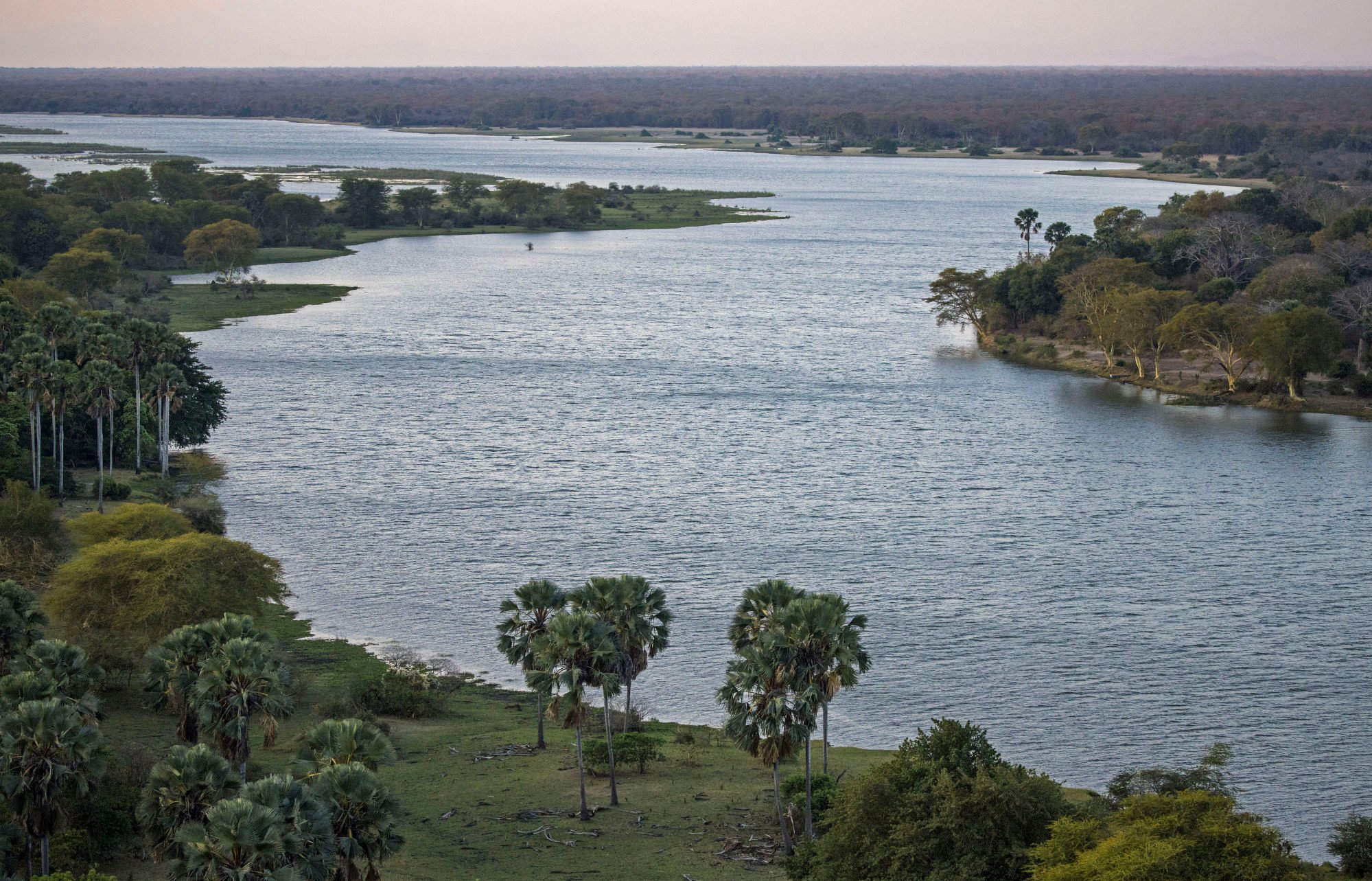 The Shire river runs through the national park on its way to join the Zambezi River. Photo: Daniel Allen
Around 50km (31 miles) long and never more than 25km wide, it is flat, with hills towards its southern tip. The Shire, which flows out of Lake Malawi and eventually into Mozambique's Zambezi River, bisects the park and regularly floods.
African Parks is a Johannesburg-headquartered conservation NGO that takes on direct responsibility for rehabilitating and managing protected areas across the continent, working closely with governments and local communities.
When it took over the management of Liwonde in August 2015, the perimeter of the park was almost totally unfenced, while iconic and ecologically important species such as lions and cheetahs had been driven off or hunted out of existence.

We installed 142km of fence over 18 months. We also chased elephants back into the park with aircraft and implemented daily boat patrols to discourage illegal entry by fishermenLawrence Munro, operations manager at Liwonde National Park
There were two primary causes of human-wildlife conflict in and around Liwonde. The lack of a fence meant elephants were free to raid farms, which caused significant damage and deaths. In addition, people living in nearby communities, where charcoal is still used for heating and cooking, would enter the park on a daily basis looking to harvest trees for firewood, to fish and to hunt for bushmeat.
Some poached elephants and rhinos. Seven people were killed in encounters with dangerous animals in and around Liwonde in the first seven weeks after African Parks took over management.
"The most effective solution to this crisis was to construct an electric fence around the entire perimeter of the park," says Lawrence Munro, who works for African Parks as Liwonde's operations manager.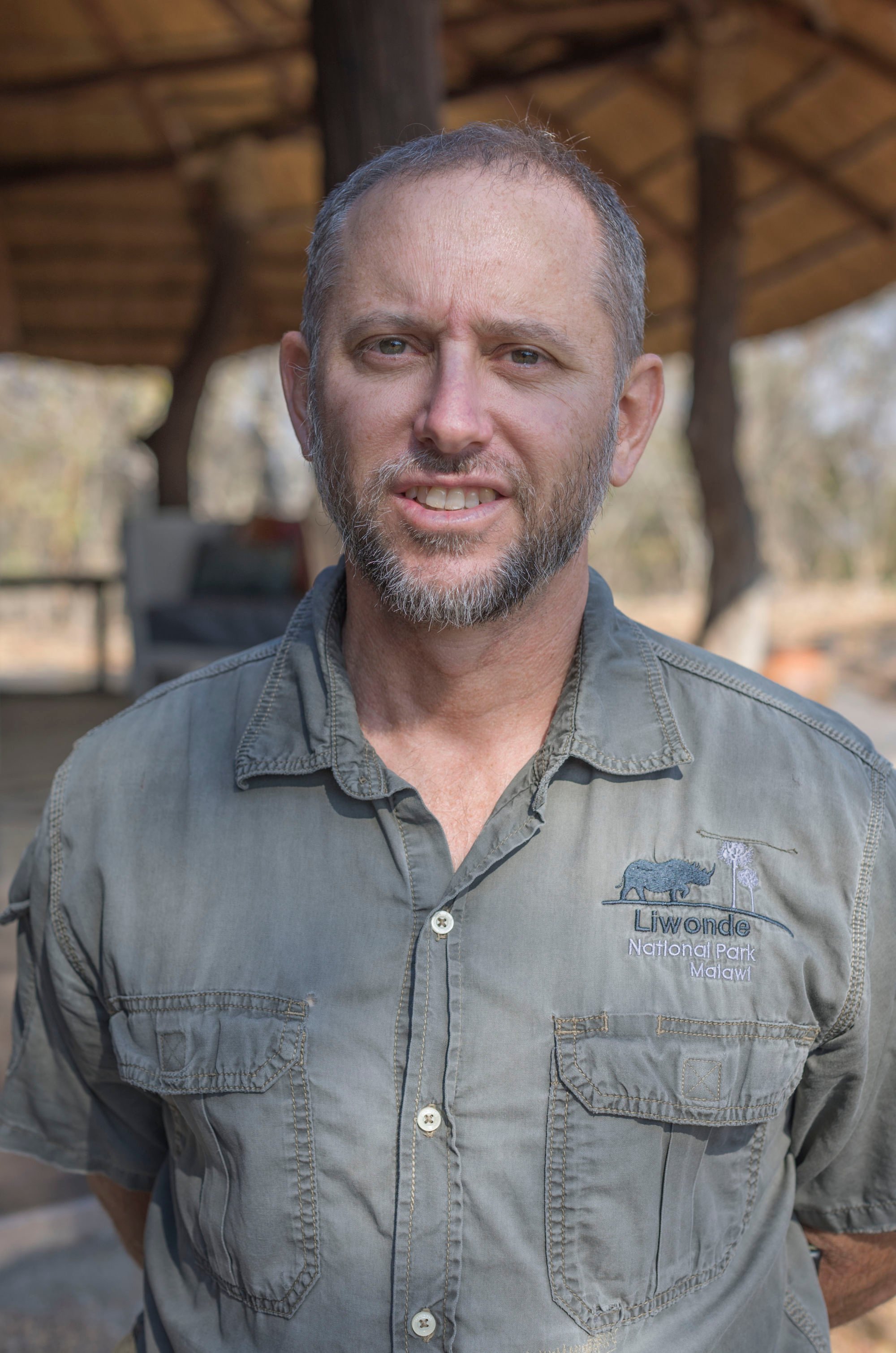 Lawrence Munro, operations manager at Malawi's Liwonde National Park. Photo: Daniel Allen
"In the end we installed 142km of fence over 18 months. We also chased elephants back into the park with aircraft and implemented daily boat patrols to discourage illegal entry into the park by fishermen, who were at risk of being attacked by crocodiles."
Since 2015, under the management of African Parks, Liwonde has emerged as perhaps the most sought-after wildlife destination in Malawi, setting a benchmark for restoration initiatives across Africa.
This has not only meant reintroducing missing species, but also reducing some animal populations – most notably elephants.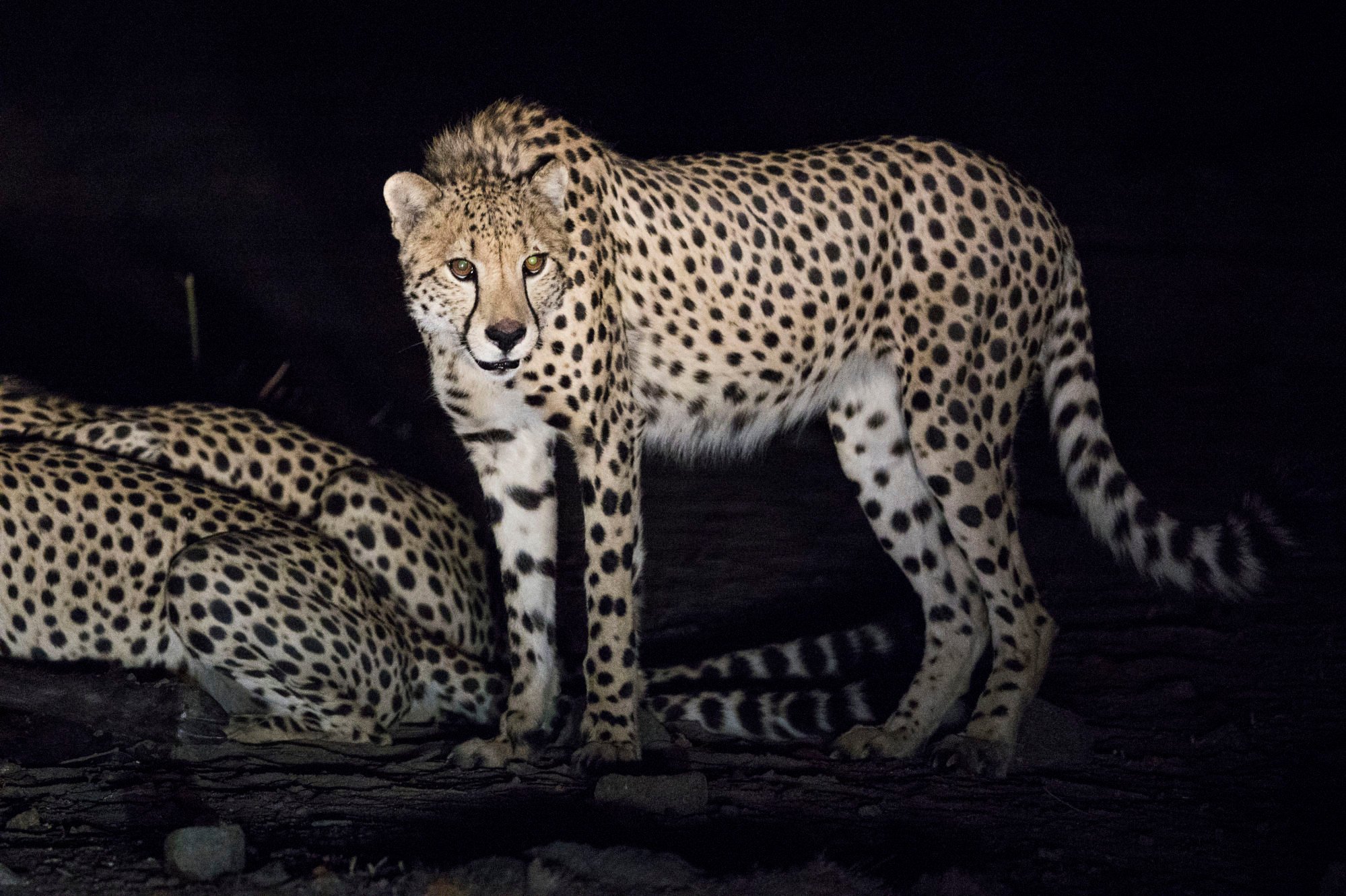 Cheetahs were released into Liwonde in 2017. Photo: Daniel Allen
Cheetahs were released into Liwonde in 2017 and lions in 2018, followed by the largest single translocation of black rhinos from South Africa, in 2019. In July 2021, African wild dogs were reintroduced after a 60-year absence, and there are plans to reintroduce leopards.
The animals have acclimatised well to their new surroundings, giving birth to pups, cubs and calves.
Liwonde has a carrying capacity of around 350 elephants; when numbers exceed this, the natural resources of the park come under pressure and the likelihood of conflict with local human communities increases.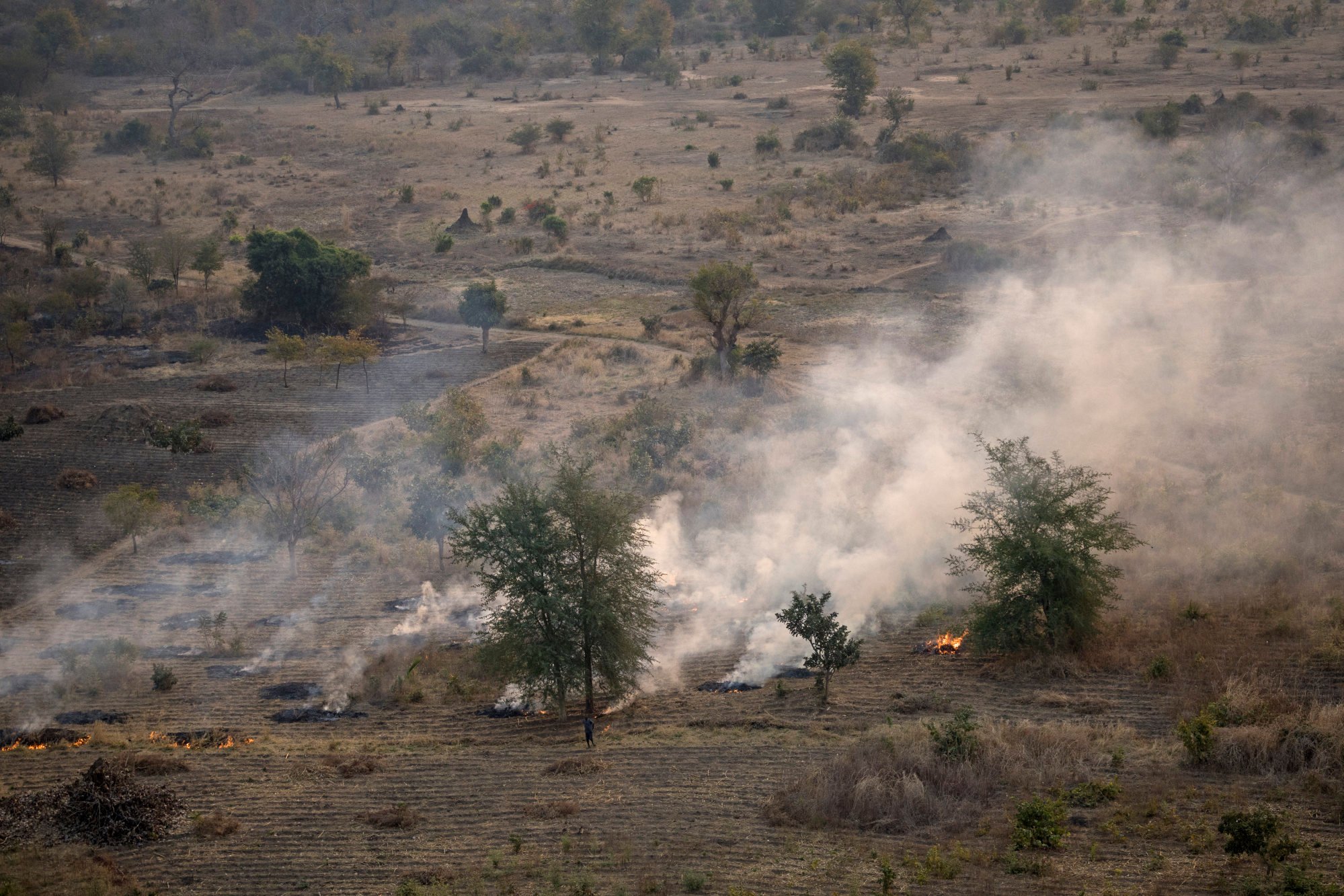 Farmers practise slash-and-burn agriculture just outside the boundary of Liwonde National Park. Photo: Daniel Allen
With elephant poaching having dropped off significantly in the park since 2015 – there were no cases between 2018 and 2021 – a number of translocations to other protected areas in Malawi have taken place. The latest, in July 2022, saw 256 Liwonde elephants moved to the far larger Kasungu National Park in a jumbo-sized effort.
In 2018, the government of Malawi extended African Parks' mandate to incorporate the adjacent 358 sq km Mangochi Forest Reserve, to the north of Liwonde, increasing the footprint of protected land in the area by 60 per cent and bringing the number of parks managed by African Parks in Malawi to four.
Liwonde's perimeter fence was extended to incorporate Mangochi and now stretches for 244km.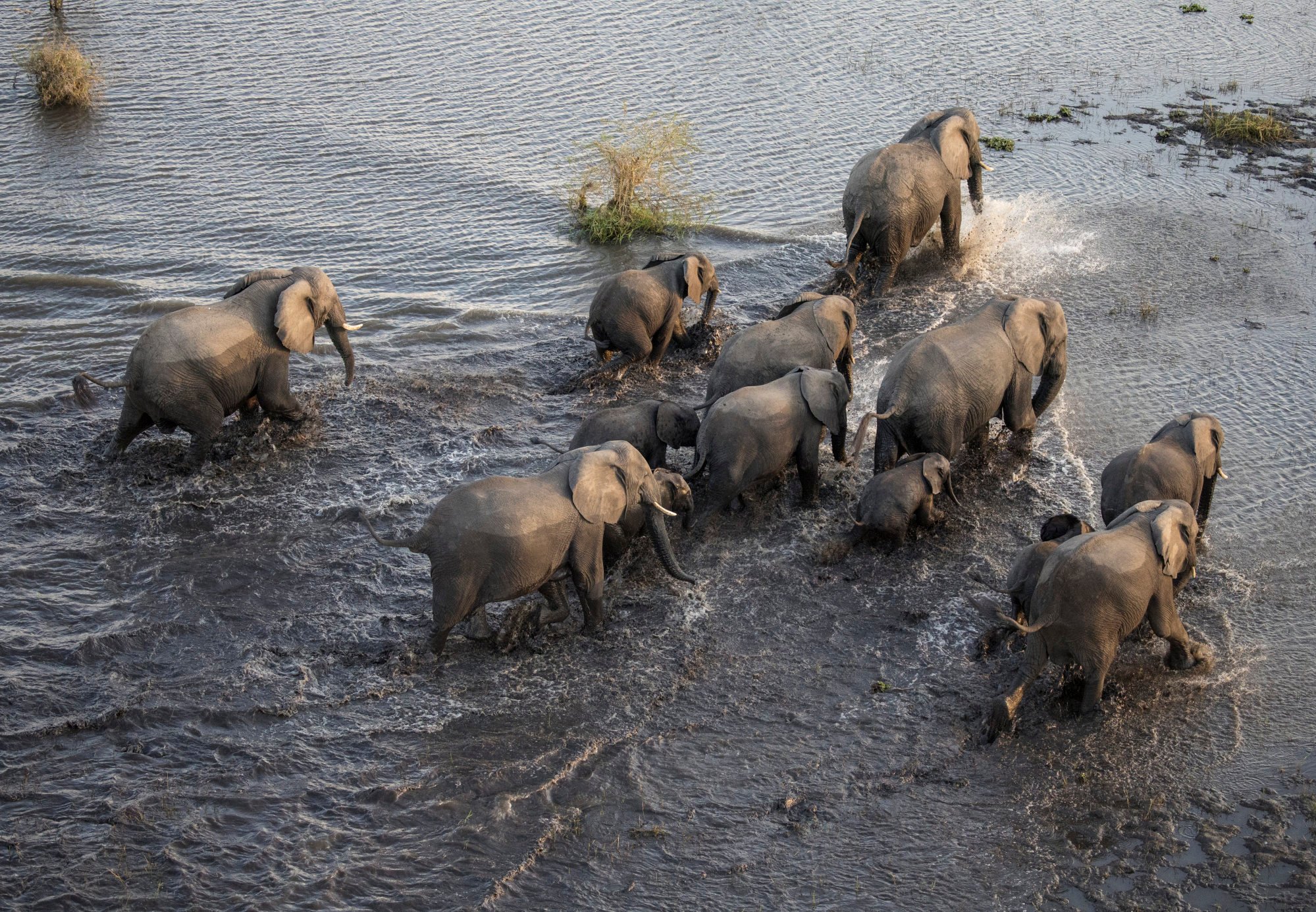 Elephants in Malawi's Liwonde National Park. Photo: Daniel Allen
Today, with the combined Liwonde-Mangochi protected area on the list of Malawi's "big five" (elephant, rhino, buffalo, lion and leopard) safari destinations, post-pandemic tourism is booming. The park received 14,000 visitors in 2021, up from 8,800 in 2020. Just over half of the visitors were Malawian.
Those who wish to overnight inside the park have a number of options, including the beautifully located and supremely hospitable Chimwala Bush Camp (operated by African Parks), where guests awaken each morning to the haunting cries of the African fish eagle.
Demand is such that approval has been granted for the development of two more camps, which will start this year, with a focus on the east bank of the Shire.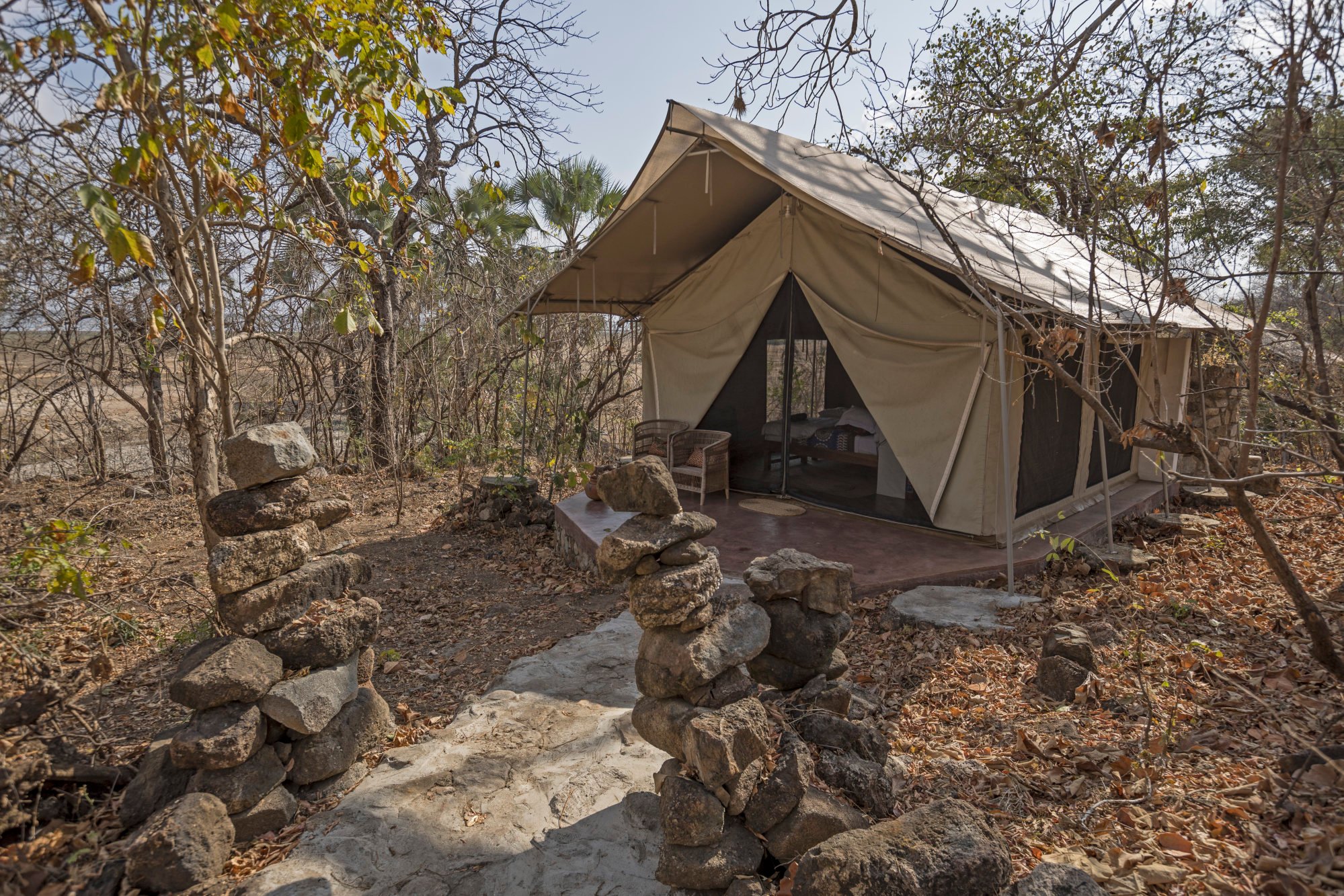 Visitors can stay overnight at Chimwala Bush Camp, and two more camps will be built in 2023. Photo: Daniel Allen
At the Namalasa primary school, a stone's throw from Liwonde National Park's southern boundary, the arrival of unexpected visitors draws a crowd of excited pupils. As they run into the main yard, many are still clutching their English books, which have bright covers and safari-animal-themed titles.
The school, which was built with the help of African Parks, has around 1,300 students and serves eight local villages, with some classes accommodating more than 200 children.
African Parks has also helped with the roll-out at Namalasa of the Happy Readers programme, an integrated reading scheme for young children, with English as a second language.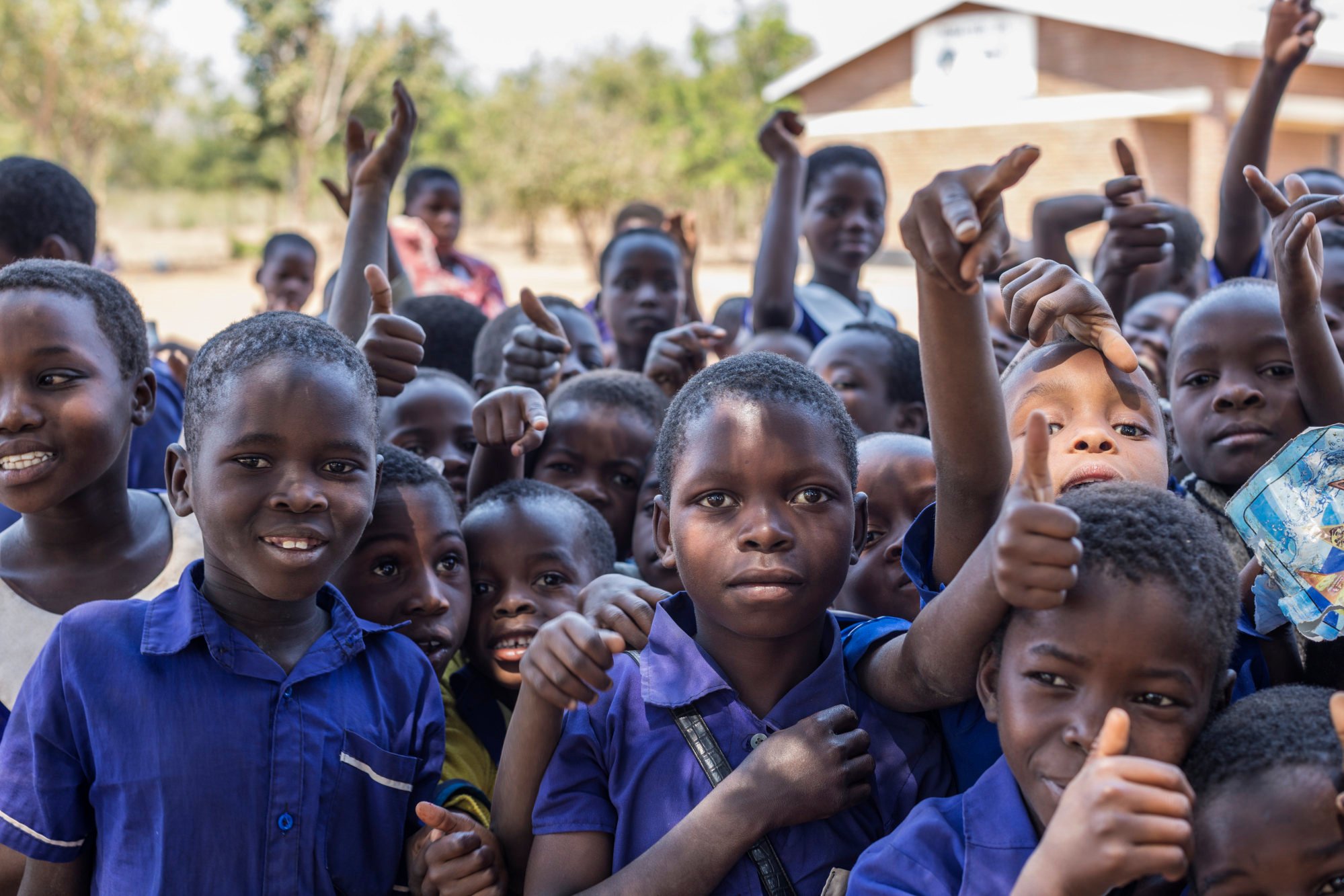 Namalasa schoolchildren. The literacy rate among the children jumped from 6 per cent to 66 per cent in six months. Photo: Daniel Allen
"Child literacy at Namalasa was just 6 per cent before Happy Readers started," explains Daniel Kapito, coordinator of the programme for African Parks. "After six months, literacy had improved to an amazing 60 per cent, through the efforts of the teachers here.
"There are now 13 local schools in the programme, and a child from Namalasa has won a national reading competition."
Other African Parks programmes involve water provision (through borehole development), micro-irrigation schemes, chilli growing and "Honey with Heart", a social enterprise that empowers communities through the production and sale of high-quality honey.
There is also a "goat pass-on project", which teaches locals how to raise and sell goats, supplying people with protein and income, and reducing their need to catch wild animals.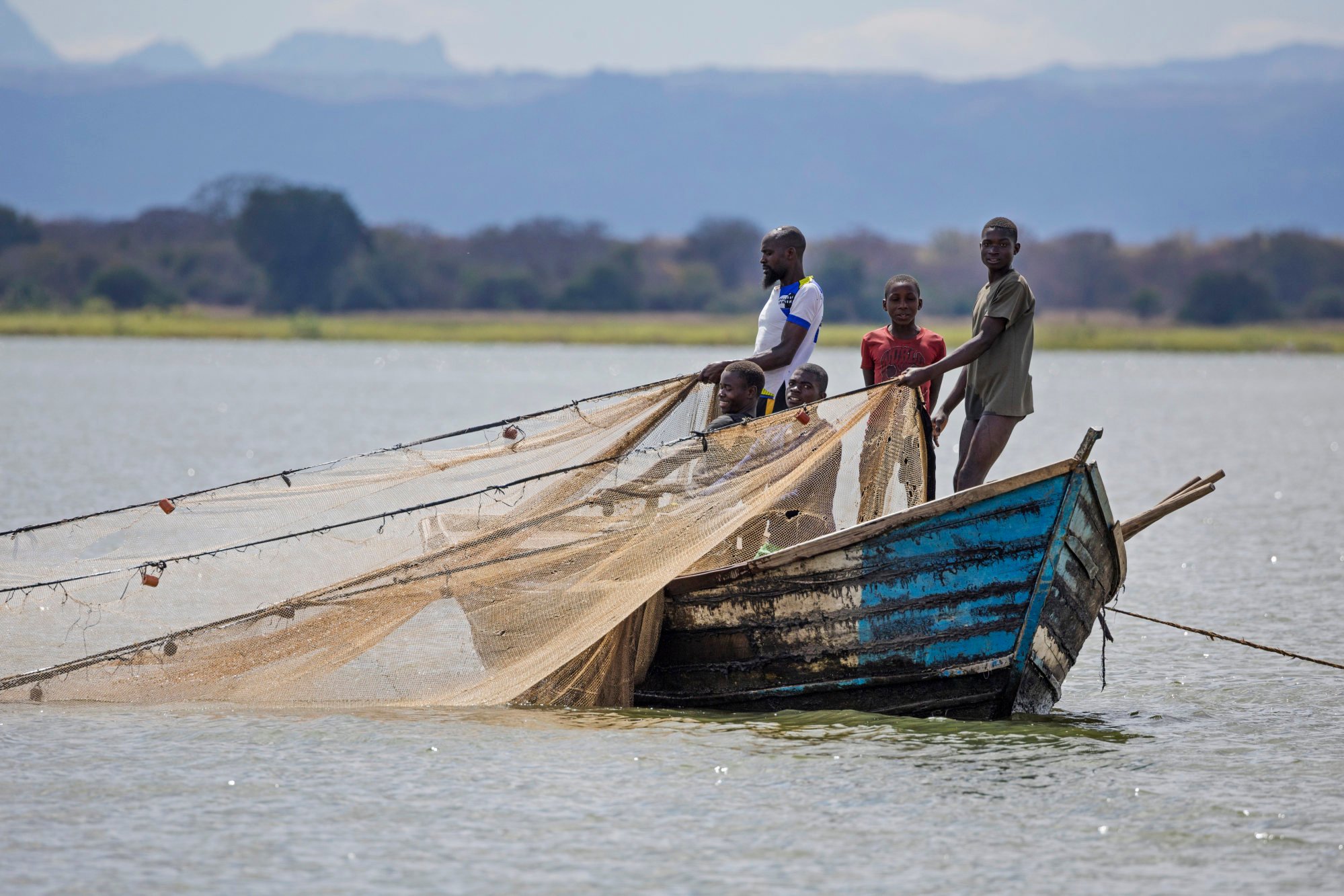 Fishermen pull up a net in Malawi's Liwonde National Park. Photo: Daniel Allen
In 2021, African Parks' programmes around Liwonde helped communities to raise more than US$12,000 from the sale of surplus produce – a not insignificant amount considering the average monthly salary for a Malawian agricultural worker is less than US$100. The programme not only supports local livelihoods, but also conservation efforts inside the park.
"There has been a dramatic drop in illegal activities now that communities can benefit from the legal opportunities that come from a well-managed park," says Munro.
However, while the poaching of elephants and rhinos has been drastically reduced, snares and fishing nets – common poaching tools – continue to kill and maim Liwonde's animals indiscriminately. Bushmeat poaching and illegal fishing remain a challenge, with 111 arrests made in 2021.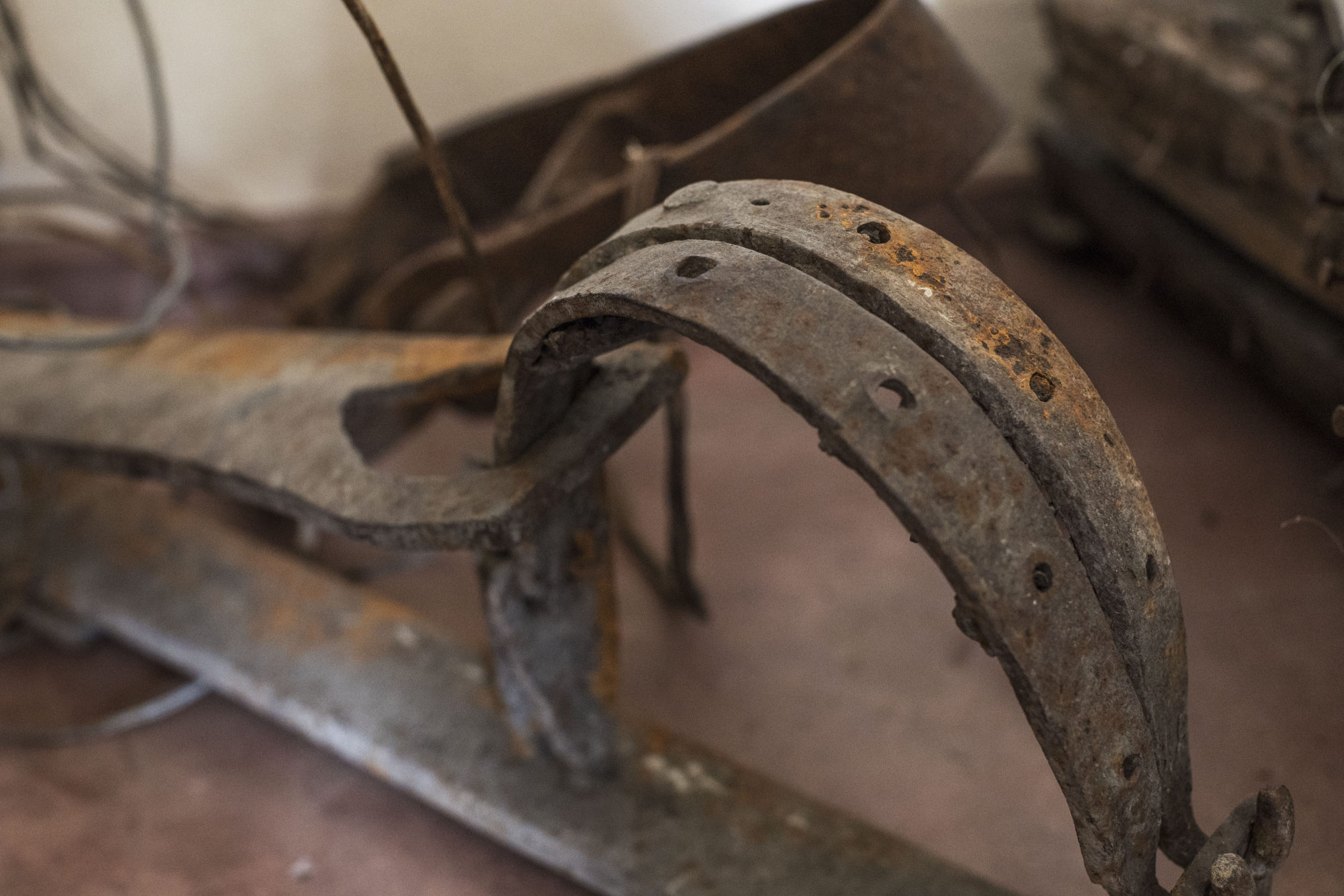 Captured animal snares. Poaching attempts are expected to increase in Liwonde, and these can only be fought with the help of rangers and by interacting with communities around the park. Photo: Daniel Allen
Last year, 3,815 snares were recovered, and five gin traps, 101 boats and 73 canoes were confiscated and destroyed, along with numerous fishing nets.
In November 2022, the nature of Liwonde's poaching problem was highlighted by the death of an entire pack of 18 African wild dogs, some of which had been reintroduced to the park from South Africa and Mozambique in 2021. They had been unintentionally poisoned by a poacher targeting birds or small game.
"We expect the poaching threat in Liwonde to increase, related to the growth of human populations around the park, as well as other variables, which may include socio-economic, political and climatological factors," says Munro.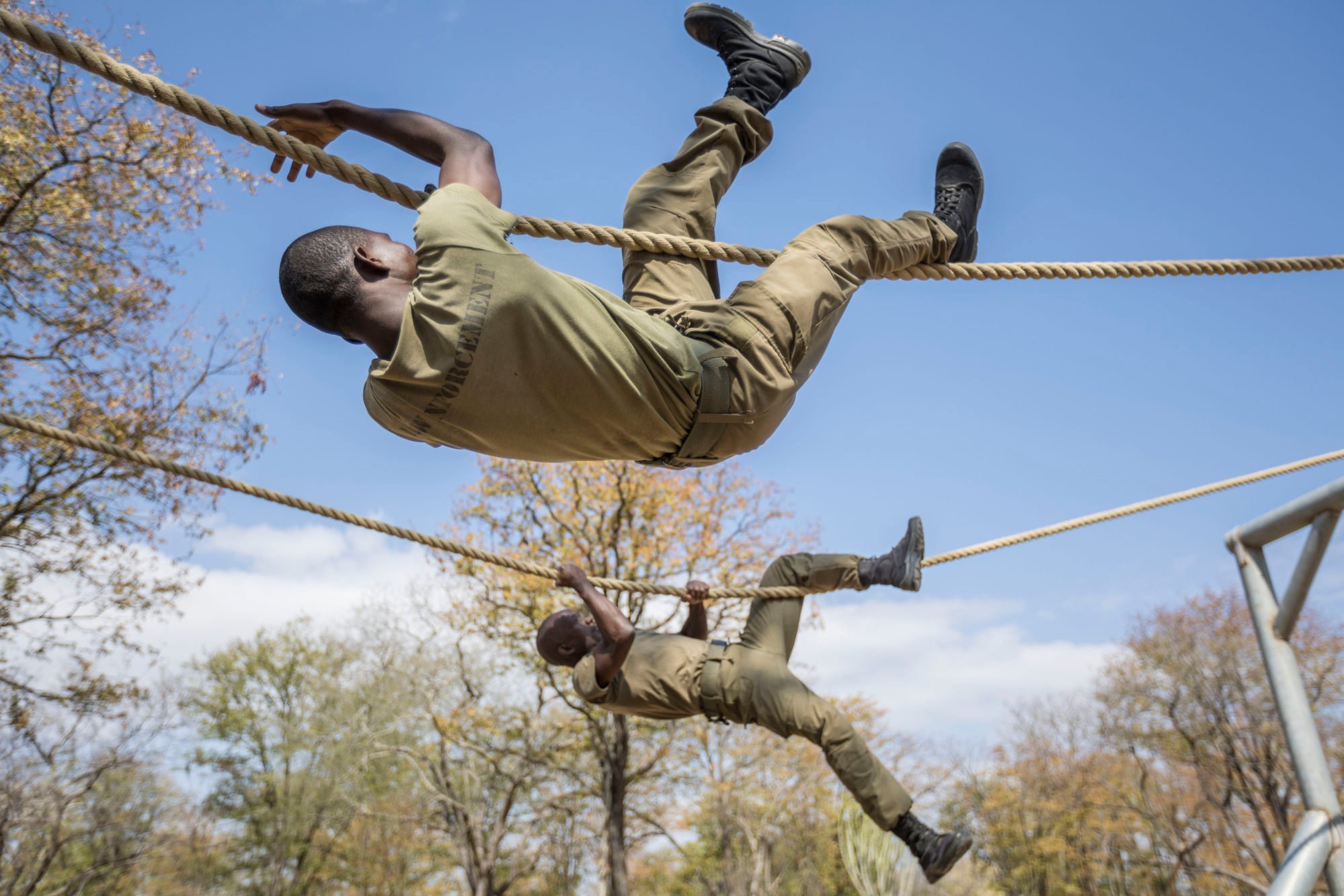 Rangers training at Liwonde National Park. Photo: Daniel Allen
"Liwonde is a long and thin park, which means people can come in, do something illegal, and leave in next to no time. We need to have very quick reaction times, which makes the helicopter based here essential.
"At one point we had a room here with 30,000 confiscated snares in it," says Munro. "That shows you the scale of the problem. We now incorporate them into concrete used in park infrastructure."
Liwonde has 65 rangers to counter the poaching threat. Squads are deployed on seven-day missions to the field, from where they feed information back to a central operations room equipped with EarthRanger, a software system for protected-area management.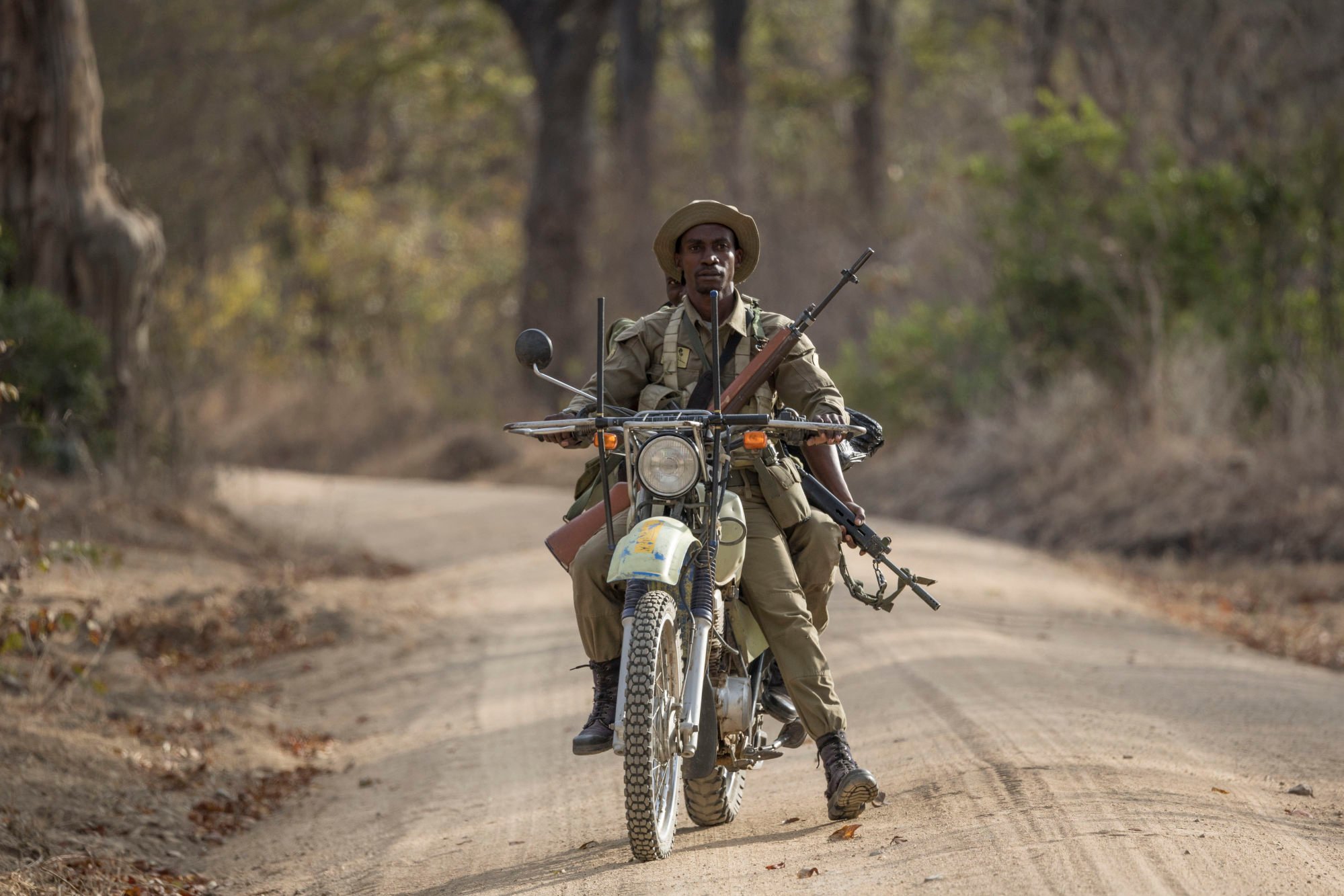 Rangers on patrol at the park. There are 65 rangers protecting the animals from poaching. Photo: Daniel Allen
They also cooperate with Malawian police and the Department of National Parks and Wildlife outside park boundaries, and all are capable of making arrests.
"Over the last two years we've seen more poachers stopping to fight, rather than simply running away," says Munro. "It's hard to say why – maybe there's an element of desperation. Many are hunting meat, both for their families and to sell on."
African Parks has a record of rapidly turning around ailing protected areas across the African continent. In Liwonde, though, no amount of rangers is going to eliminate the threat and impact of human-wildlife conflict, which means community relations will remain central to the park's recovery.
"Over the next five to 10 years, the challenge for us will be to keep strengthening our interventions in the villages and towns around Liwonde in a way that fewer and fewer people have to rely on illegally extracted resources," says Munro. "We also need to move towards economic self-sustainability for the park through increased tourism."
Daniel Allen is based in London, award-winning writer and photographer Daniel Allen has journeyed widely across the globe. His work has featured in numerous publications, including The Guardian, The Sunday Times, National Geographic, Discovery Channel Magazine, Geographical, CNN Travel and Esquire.
https://www.scmp.com/magazines/post-magazine/travel/article/3205809/national-park-malawi-southern-africa-sets-benchmark-reducing-human-animal-conflict-and-restoring