By PHIL MISTRY – PetaPixel
Photographer Chris Fallows grew up in South Africa and has been exposed to wildlife since he was taken on a safari at age two. His father was an amateur wildlife photographer and introduced him to the hobby in his teens.

Fallows started taking it more seriously when he was able to photograph breaching great whites. The sharks have been a passion of Fallows for the last three decades, and he has captured some of the finest breaching shots where the sharks are up to twelve feet above the water.
The exposure that came with it gave him a break at becoming a full-time wildlife photographer.
"Great whites [sharks] were my primary focus, but I have always photographed other forms of wildlife, particularly predators and iconic species," Fallows tells PetaPixel. "Together with my wife Monique, we spend about three months in the wilds of Africa and elsewhere each year, and in Africa, I have a lot of exposure to elephants.
"Over the years, I have come to truly love and appreciate them and have got to know an animal that is intelligent, caring, and obviously under huge pressure from humanity. I am particularly drawn to large matriarchal herds which offer great opportunities to highlight the complex social dynamics."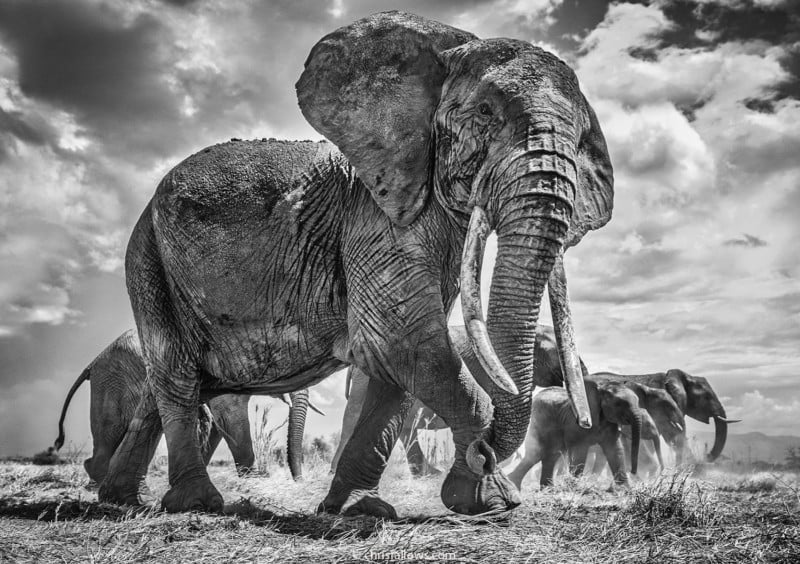 Fallows is also drawn to searching for the last few iconic big male tuskers on the African continent. It's estimated that only 30 of them [males with large tusks] are left in the wild, and they are icons of the African continent.
He has been photographing elephants seriously since 2015.
Fallows has visited all seven continents at least four times and spent more than 3,000 days on the sea. He does not shoot huge numbers of images hoping for the best, but instead he plans each project very carefully. Even then, he has ended up amassing 20,000-30,000 frames in the last six years, and these photos are just of elephants.
"My work is focused on just a few key locations that I have learned best suit my style of work that is minimalistic with backgrounds that are carefully chosen for not distracting from my subjects," explains Fallows. "I also seek out very specific elephants that are magnificent examples of their species.
"Generally, I am self-guided, tracking and following herds myself, but in East Africa, I camp and sleep with the Masai, and we track them together. They have a great knowledge of the area, and I need a guide who is extremely comfortable in close proximity to these obviously very large animals."
White sharks are all about speed, reflexes, and the ability to capture split-second action. Elephants require careful planning, letting your subject become comfortable with you, and then composing an image that takes on a pleasing look with multiple subjects often in the same frame.
When Fallows shoots sharks, it is usually high energy and high fives. When photographing elephants, it's about being extremely quiet and calm.
"Elephant photography, like a truly incredible white shark image, requires careful planning, and for both, I like to use wide-angle lenses that tell a story not just of my subject but also the environment in which it lives," says Fallows. "For both the attention I pay to weather and atmosphere is significant as ultimately this is what can take a good image to a truly great one."
Three locations work best for Fallows. Namibia has open spaces, whitewashed-out backgrounds, and very harsh environments that add an edge to the imagery. In Zimbabwe, he loves Mana Pools National Park, where the elephants are incredibly relaxed, and the Acacia Albida forests offer an ethereal feel and look to them.
East Africa and particularly Kenya offer open landscapes with exceptionally good-looking heavy tusked elephants that really give them a truly majestic look. All three locations are very different, and all offer his fine art collection something different. He tends to steer away from areas with cluttered backgrounds or bush as they do not compliment his simple and clean style.
Fallows, who is a Canon Ambassador, uses both DSLRs and mirrorless cameras. Currently, that includes the Canon 5D Mark IV and the Canon R5 along with Canon EF 70-200mm f/2.8L IS III USM, Canon RF 15-35mm f/2.8 L IS USM, Canon EF 11-24mm f/4L USM, and other lenses.
Fallows says the Canon R5's mechanical shutter speed of 12 fps is enough for his needs and that the sound does not bother the elephants (unless he is at extremely close quarters). He tends not to do anything that will alter his subjects' behavior, mostly out of respect for always knowing that he is a guest in their world.
"I tend to use natural light for everything and shooting fine art I often shoot in times of day most don't," Fallows says. "Often late morning early afternoon when elephants are on the move to drink and when we have clouds forming and contrast giving emotion and depth to my work.
"My limited edition is all black and white, and as such, I am after detail in the sky, which I generally only get pm onwards in Africa as afternoon thunderstorms build."
Fallows shoots in color and then converts to B&W on the computer. He does the basic work in Photoshop along with Silver Efex Pro. After that, it goes from Cape Town, South Africa, to a lab in Los Angeles which retouches his images for his Limited-Edition Collection.
"If it is raining softly, it's no problem. If it is hard, it's a different story, and then I will generally not shoot outside of a vehicle," Fallows says. "Also, if it is raining too hard, it is seldom that there is an image worth risking gear for."
"I want to create images that are unique, exceptional, and most importantly engaging," Fallows explains his shooting technique. "Most people don't want to lie in thorns, hard cracked earth, or in elephant dung, but to get an image looking up at an elephant, you need to do this.
"I want to elevate my subjects to as grand a standing as possible, and by being low, I can do this. When photographing a herd, I am looking for pleasing lines within that herd and, if at all possible, chose a magnificent specimen as my anchor for the image. Using simple composition and a strong subject are powerful elements to creating engaging work."
Warning: Getting close to any wild animal is dangerous and you should always keep to safe, recommended distances. We have shared many stories of photographers and selfie-chasers being hurt (or even killed) by animal attacks.
Here's what Fallows says separates a good wildlife photo from a great one:
A lot! It's in the detail, from the composition to the proximity, to the angle of engagement you get when you look at the work. When you understand the species in the work, you start looking at things like the magnificence of the subjects depicted. For example, a huge, tusked elephant is extremely rare. If an image has one in it, it is way harder to get than a normal elephant. A black manned lion is rare compared to a blond lion etc. etc. I think few people realize how difficult it is to get a large herd of elephants to walk in a relaxed manner up to where you are lying on the exposed ground and then get an image of a huge tusker as the lead elephant in that herd. It takes huge amounts of planning, time, creativity, and luck. Finding places where this happens, then having the right herd with the right subjects with big tusks in that herd, then having clouds and atmosphere coupled with cracked earth are all elements combining to take an ordinary image to a good one to a great one.
To every enthusiast photographer venturing out on their first safari to Africa and expecting to come back with that killer portfolio, Fallows warns that it can take a great deal of time and effort to come away with "keepers."
"In 30 years of shooting in many of the world's remotest locations with incredible privileges and opportunities, I may have only taken 25 exceptional images I feel worthy of being works in my limited-edition fine art collection," the photographer says.
---
Phil Mistry is a photographer and teacher based in Atlanta, GA. He started one of the first digital camera classes in New York City at The International Center of Photography in the 90s. He was the director and teacher for Sony/Popular Photography magazine's Digital Days Workshops.